RareAndNosCamaroParts.com sells NOS Camaro Parts, Rare Camaro Parts, Old Camaro Parts, and Hard to Find Used Camaro Parts for Your First Generation 1967, 1968, 1969 Camaro.
Part Searches: Take out your 1967 Camaro, 1968 Camaro or 1969 Camaro Factory Assembly Manual and open it up to any page and select a part using the GM part number, then enter it into the search feature on our website. Example: 1969 Camaro brake line clip located in the 1969 Camaro Factory Assembly Manual under UPC 8 B2. Item #2 GM part# 3952717. Place part number "3952717" into our search box and you will see all the parts or kits that contain that GM part number. The number mentioned above is 3/8 Blue brake or fuel line retainer clip.
Business Model: Heartbeat City Camaro's business model has always been to offer the finest quality parts at the best possible prices, the most accurate reproductions, our professional expert opinion, and to give you, our client, and most accurate information about our products in each and every listing on our website. Our descriptions reference the Assembly Manual, GM part numbers. We specialize in restoration Camaro parts for your first generation 1967 Camaro, 1968 Camaro, and 1969 Camaro.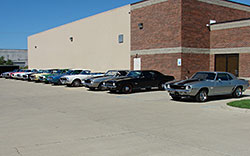 Customer Service: Many parts warehouses claim to offer the best pricing, the best service, free shipping, 24 hour service etc. What they aren't telling you is that the item is backordered or will be drop shipped who knows when, from who knows where?, or that they are offering the cheapest parts money can buy, or that they don't offer returns after two weeks. What about service after the sale? What Camaro parts expert is answering their phones at night? Generally it's a call center!
Ownership: Heartbeat City Camaro is not owned by a Private Equity Group or an investment company. We have been family owned and operated for 30 years and that isn't likely to change. You can join our owner on www.facebook.com Search for James Edward Stubbings and friend him. You can view many updates from him about your Camaro and ask tech questions.
Cars for Sale: From time to time we offer a Camaro for sale. These are Camaros the owner decides to sell or may be trading up for the next treasure he locates. Heartbeat City Camaro offers or shows his collection on the site and any cars that he may have for sale. Heartbeat City Camaro is not a licensed car dealer in any of the 50 United States and does not collect any state Sales tax, license plate fees etc.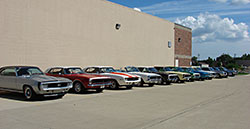 Classic Camaro Collection: Heartbeat City Camaro's owner has been assembling his collection for over 30 years and has acquired a considerable 1967-1969 Classic Camaro car collection. You can review many of the cars and their restorations by clicking on the link "Camaro Collection". It is important to note that we use and install many of the parts we offer on the Camaros in our collection. Heartbeat City Camaro likes to use an American Made or OE quality part where ever possible.
NOS & Rare Camaro Parts: NOS & Rare 1967-1969 Camaro parts are getting harder to find by the day. We try to find as many Rare and NOS Camaro parts collections as possible. We then offer those parts on our website when possible. If you are looking for an Original Genuine GM 1969 Camaro Z/28 302 Crossram, Factory Headers, NOS GM Cowl Induction hood, or an original console with gauges, factory dash clocks & tachometers, the very rare JL-8 4 wheel disc brake assembly, original Harrison radiators,
AC Delco original dated brake boosters, date components, 1100837 Alternators, 1108367 Starters, Cowl Induction parts, Air Conditioning parts, Exhaust Manifolds, Smog Systems or Air Injection parts, Small Block Engine parts, Big Block Engine parts , Fold Down Rear Seats, Power Windows, Tilt Steering, Walnut Wood Steering Wheels, Standard or Deluxe Seatbelts, dated Holley Carburetors, Exhaust Manifolds, Rally Sport parts, Super Sport parts, RS/SS 350, RS/SS 396, 427 COPO, 427 ZL-1 Engines & parts, Heater Controls, Dash Instrument Panel Clusters, Dash Pads, Windshields and Window Glass, Door Regulators, Front Suspension, Rear Suspension, Fuel tank or Fuel System, Rosewood Steering Wheels, AM Radios, AM/FM Radios, Camaro Floor Mats, Bumpers guards, Remote Mirrors, Camaro Deluxe Interior parts and Camaro Deluxe Interior Kits, Sub frames, Sub Frame & Suspension Kits, Camaro Emblems & Emblem Kits, 1967 1968 1969 Camaro Fenders, Hoods, Rear Body Panels, Quarter Panels, Door Skins, Sheet Metal, Camaro Front & Rear Bumpers, Grills, Header Panels, Front & Rear Valance Panels, Rally Wheels, Tires, Accessories, You name it we have it!
Camaro Diecast Model Cars: We have models ranging from Baldwin Motion Camaro, Famous Race Cars, Don Yenko, 427 ZL-1, 427 Nickey Chevorlet, Bill Thomas, Grumpys Toy, Mr. Bardahl, Old Reliable, Fred Gibb Chevrolet and so many more.
Parts Suppliers: Heartbeat City Camaro stocks parts from some of the very best in the business from AC Delco, CHQ Reproductions, OER Reproductions, General Motors Corporation, Classic Industries, PUI Parts Unlimited Incorporated, The Right Stuff Detailing, Year One, Good Mark, Dynacorn, Auto Metal Direct, Factory Fit, Auto Custom Carpets, Soff Seal, Trim Parts Manufacting, R.E.M, Moog, US Radiator, Kelsey Tire Company, Inline Tube, Details, Car-Tech, Quanta, Repops, and so many more of the finest suppliers in the business.